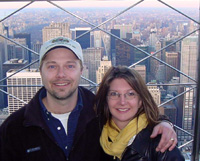 Ed and Laura
Empire State building, NY
January 2001
My name is Ed Rockwell
I work in Eden Prairie at CH Robinson company. I have been doing computer repair and upgrades for over 17 years. I am now providing website and email hosting for small local companies along with affiliate marketing. Drop me an email if you are interested in site hosting. Click here to view Ed Rockwell's online resume.
My wife's name is Laura Rockwell
She is a nurse in the Cancer Center at Methodist Hospital, St. Louis Park MN, USA. She enjoys her weekends off and having time to work in the yard. She is trying to grow a green thumb. In her spare time she maintains our household so I have more time to play (work) on the computer and house. She's not only my wife, she's also my best friend!!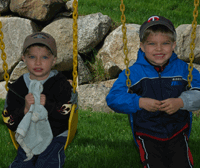 Tommy (left) William (right)
William Rockwell
William was born July 24th 2004 and loves swimming, hockey, baseball, karate and other fun sports.
Thomas Rockwell
Tommy was born July 22nd 2006 and likes playing with his neighbor "girl" friend. They play every day at school and may get married in 20 years or so... Who knows...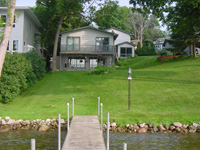 Our 50 feet of lakeshore
We live in Mound Minnesota, USA on Harrison's Bay, Lake Minnetonka. In the summer, we love to water ski, lay in the sun, and work on the house! Since we moved on the lake (5/18/01) we have been remodeling our house. So far, our home projects include the "Green Room", updating our laundry room (looks really cool!), replaced our water heater, boiler (heat), updating all our closets, new roof, extensive landscaping (boulder walls, sidewalks and granite steps) and patio work, new siding, windows, interior paint, latex garage floor, insulate and drywall garage, sprinkler system, new shed, riprap and so on... WOW!!

The photo of our house on the left was taken (I think) in 2003... It has changed a lot since then.